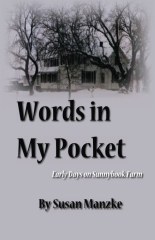 The next AuthorMom in our series is someone that introduces herself and her life well–in her writing. I don't have to interview her–you'll get to know her if you subscribe to her weekly column.
Susan Manzke
is an inspiration. She's been penning her column for 30 years, and I recently was invited to help her put together a collection of those columns into a newly published book,
Words in My Pocket
. What a joy!
In her book, you'll really experience what it's like to be an author and a mother simultaneously, since Susan's journal-style essays are humorous and heartfelt excerpts from her life while raising a family on Sunnybook Farm in Seymour, Wisconsin.
Susan Manzke also visits classrooms–and dresses the part! She's into historical fiction and life on the prairie, so her presentations are always interesting (see video link below!)
As for me, I subscribe to her weekly column via email (and I'm catching up on all of her writing that she did when I was too young to read!). I love reading the words of someone who is humble, thoughtful, honest and simple–four qualities I love about my own mother!
So, head on over to
Susan's website
if you want to meet this AuthorMom (and GrandMom!) or begin receiving her down-to-earth weekly column!